This article talks about the best off-grid inverters for your home or in a SHTF situation.
We can have three different inverters, these are:
Here is my top pick for the best inverters:
| | | |
| --- | --- | --- |
| Best Overall | Best value for money | Best for 48V systems |
| | | |
| Renogy 1,000W | Giandel 600W | Victron Multiplus II |
| Best overall Inverter for 12V off-grid applications. Good balance between power and price. | Best budget off-grid inverter for 12V systems. Good customer support and reviews. | Best Inverter for 48V systems. A lot of software options, very efficient and lots of good customer feedback. |
| 12V | 12V | 48V |
| 1,000 W | 600 W | 3,000 W |
| 90% efficiency | 90% efficiency | 93% efficiency |
| Remote control | Remote Control | Optional remote control touchscreen |
| Power draw on idle: 25W (normal mode) | Power draw on idle: 9W | Power draw on idle: 25W |
| 12 months warranty | 18 months warranty | 5 years warranty |
| My Experience: Not personally used this inverter, but good feedback. | My Experience: I own this inverter for SHTF and demonstrations. | My Experience: I own this inverter for my house with ESS setup. |
| | | |
​
Best Overall Off-grid Inverter – Renogy 1,000W
Renogy is a popular brand for off-grid applications. The 1000W inverter comes with 4AWG battery cables and a 16ft long remote switch to turn the inverter on or off from a distance.
This inverter will be enough to power your fridge because it can handle a 2000W power surge.
This new inverter from Renogy features an ECO mode which turns down the idling consumption from 25W to 5W. If a load higher than 50W is detected, the inverter wil turn on.
The inverter has one AC output and a terminal block so you can connect a power cord directly or run wires from the terminal block to a fuse block.
This inverter is ideal for a van. I like the remote switch so you can turnthe inverter off at night or when you don't use it to save battery power when you don't need it.
Best Value for Money Inverter – Giandel 600W inverter
This inverter is ideal for camping trips or as a SHTF inverter. It has two AC outputs and one USB port. The additional feature about this inverter is the remote on/off switch. When the inverter is not in use you can switch it off, preventing it from draining your battery.
This inverter is ideal to run laptops, lights, and fans. You cannot use 600W for fridges or microwaves.
In terms of customer service, I can't seem to find a case where the customer is left without resolution. The customer feedback is overall very good from this company.
Best for 48V – Victron Multiplus II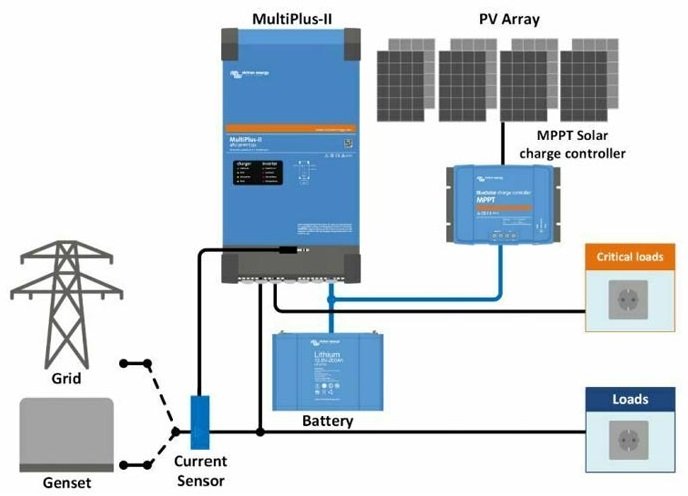 The Victron multiplus II can work with the grid and also off-grid. I use this inverter in our house because of the wide application ranges, low power consumption and it being a trusted brand.
This inverter has ESS (energy storage systems) in which you can charge and discharge the battery according to your input. Mine is set to discharge the battery during the day while electricity cost is high and set to charge the battery at night when the energy cost is low.
The 50A charger can charge the battery with the grid OR a generator. You can add multiple inverters in parallel if you want more inverter power. This inverter is ideal for home use.
The normal Multiplus 1 is an erlier version. The only difference between the Multiplus 1 and 2 is the form factor and the compatbility with the grid. If you are off grid you can use version 1.
If you have more than one AC source like shore power or a generator I recommend the Victron Quattro, read more about the difference between these two here.
Other Off-grid inverters
| | | | | | |
| --- | --- | --- | --- | --- | --- |
| | Charger | Efficiency | Warranty | Power draw | Link |
| 12V | | | | | |
| Giandel 300W | No | 91% | 18 months | 3W | |
| 24V | | | | | |
| Giandel 2000W | No | 90% | 18 months | 24W | |
| 48V | | | | | |
| WZRELB 3000W | No | 85-90% | 12 months | 38W | Popular, but not recommended because of bad customer service |
| Sungold 4000W | Yes | 88% | N/A | 48W | |
Giandel 12V, 300W car adaptor inverter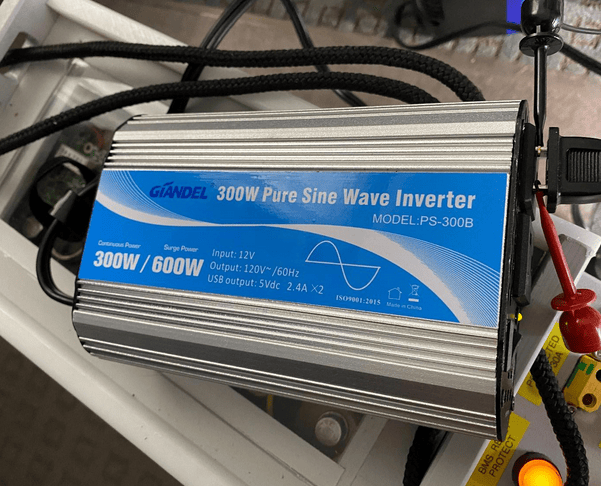 The Giandel 300W car adaptor inverter boasts a peak power output of 300 watts and a continuous power output of 250 watts, making it capable of powering and charging devices such as laptops, smartphones, tablets, and even small appliances. It also features two AC outlets and two USB ports, providing multiple options for powering and charging multiple devices simultaneously.
This inverter has a plug that can fit in your cigarette lighter port. This makes it an ideal inverter for charging your laptop on the go.
Giandel 24V, 2000W inverter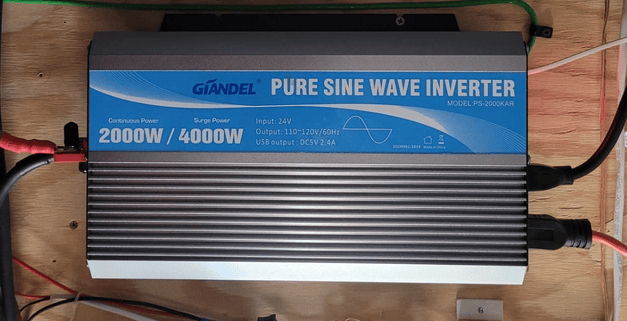 The Giandel is a trusted choice for off-grid inverters. This 24V model has two AC outputs and one USB output. It also comes with a remote switch to turn it on or off. This inverter is ideal for medium-sized systems where you need a kettle or run an electric heater.
The inverter comes with 5AWG 2ft long battery cables. It has replaceable fuses, which is a handy feature. It is ideal for an emergency inverter because it can run a fridge.
WZRELB 3000W inverter
Since 48V is the highest voltage in regular batteries, we can double up our wires. Let's say you need a wire capable of carrying 200A, then, you can use two wires rated for 100A. One caveat is that they need to have the same length, and both should be fused.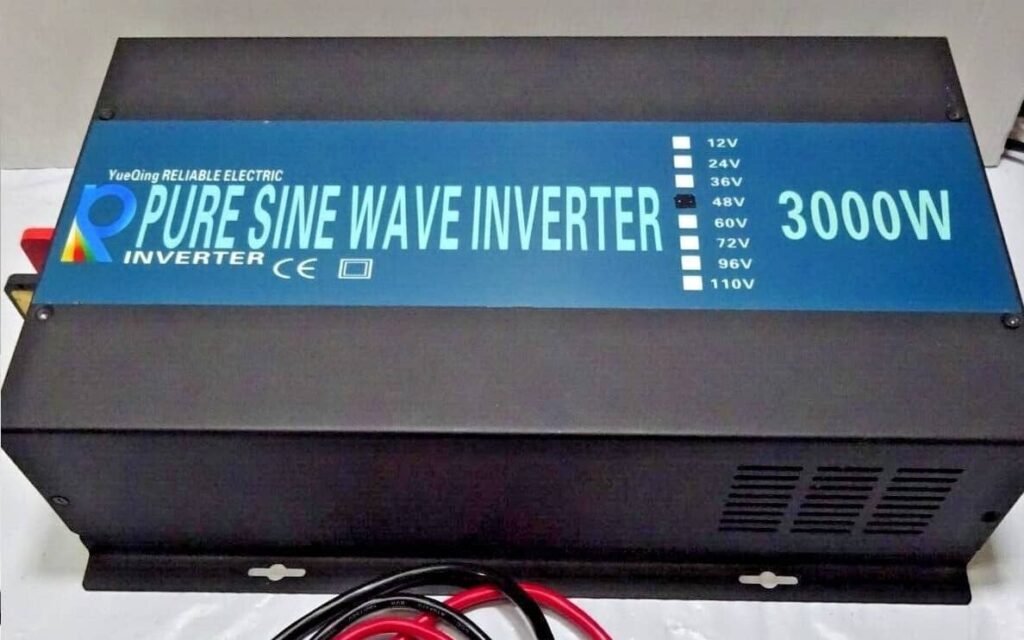 This popular inverter is for people who like to DIY their off-grid installation. You will see these in many youtube videos and in people's campers or cabins.
However, I do not recommend this inverter because there have been many people who got bad customer service.
Sungold 48V 4000W inverter
The sungold 4000W inverter also has a built-in 50A (2,400W) charger. It has an auto-transfer switch with GFI sockets. It has a surge rating of 12,000W for 20 seconds. The idle consumption is only 40W and can be reduced to 19W in power-saving mode. The inverter will detect the load and turn it back on.
Because it has a built-in charger, you can use a generator to charge your battery bank in cloudy days. With the auto gen start feature, the generator can be automatically started when the battery is below a certain voltage.
The sungold uses a low-frequency inverter. This weighs more but is more efficient and reliable.
Buying Guide for Off-Grid Inverters
Difference between off-grid and grid-tied inverter
There are a few differences between grid-tied and off-grid inverters. View the following infographic for an explanation.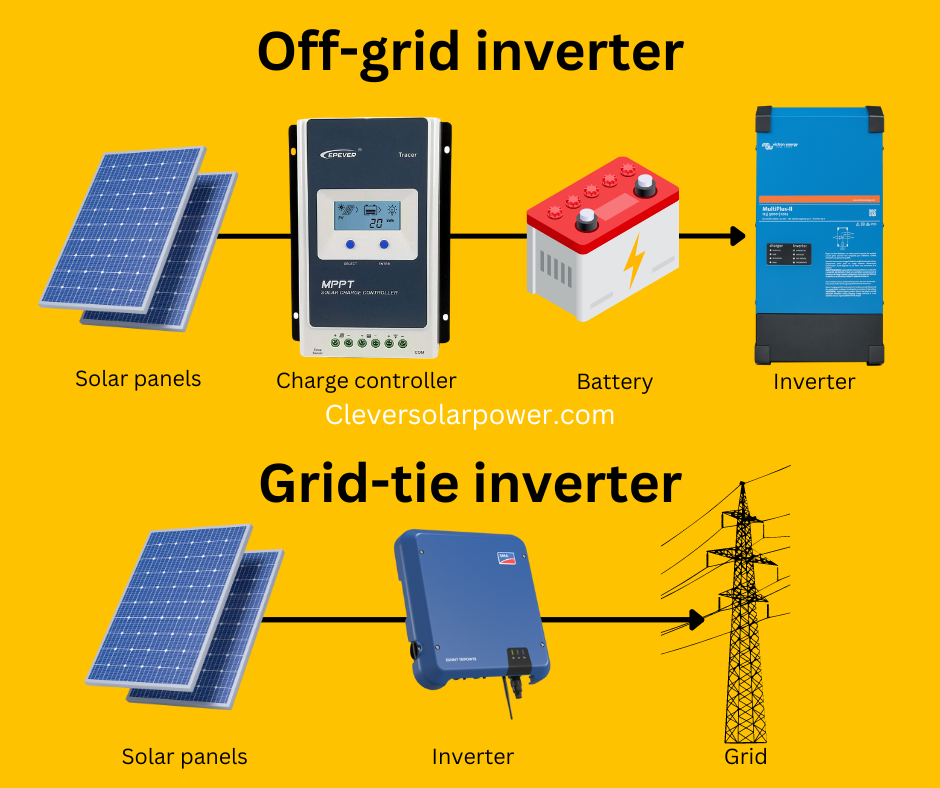 Before writing about the best off-grid inverters, we must discuss what you should look for.
Power rating: An essential aspect of selecting an inverter. These can range from 300W to 10,000W. Getting a bigger inverter isn't always better. A bigger inverter is going to consume more standby power. Having a small load on a large inverter will make it inefficient. Make sure you use the right ratio of battery to inverter size. Read my article here about what kind of battery you need for a 3,000W inverter.
Efficiency: An inverter will always consume energy when no loads are attached. Therefore it's crucial to have an efficient inverter. Most 5kW inverters use 50-70W standby power. Victron and Schneider have the most efficient inverters, but that comes at a price. Some inverters have off switches with remote buttons or have software that detects a load and then switches on.
Trusted Brand: Is the brand trustworthy? How do they handle warranty claims, and is there customer support when you have questions? Some brands are better than others in these aspects. Therefore it's best to buy from a distributor than straight from China. It will be more expensive, but you will pay for the service and peace of mind. Forget about getting a refund or even a warranty claim when the goods arrived damaged from aliexpress or a Chinese factory.

Price: The price can be an important factor to consider if you are trying to build your system on a budget. Cheaper inverters will have fewer features available but are easier to configure. The more expensive inverters like Victron and Schneider have many options but will be more expensive.

Inverter/Charger: Does the inverter has a built-in charger? Buying a separate lithium (LiFePO4) battery charger can be expensive. Therefore you can buy an inverter/charger that does the charging from the grid in normal circumstances and discharges during a blackout. If you are completely off-grid, then you don't need a charger. If you have a generator, you will need one. If you are building a DIY solar generator, these can come in handy too.
Battery Voltage: Make sure you check the voltage of the inverter. Small inverters will use a 12 or 24V battery, while bigger inverters of 3kW or more will use battery systems that are 48Volts.
Deciding the size of your off-grid inverter
If you don't know how much power you need, then use the following method:
Add up all the power of your appliances which are turned on at the same time x 1.25
For example, if you have a kettle (1500W) and a TV (100W) on at the same time, then we become the following:
1500W+100W = 1600W x 1.25 = 2000W -> 2000W inverter
Conclusion
There are also hybrid inverters which we will not discuss in this article. A hybrid inverter combines the charge controller, charger, and inverter in one device. These consume more power on standby but are easier to install.
Our #1 Recommendation
The Renogy 1,000W 12V inverter is what we recommend.
If you have a small to medium solar system and want lots of functionality, then this inverter is all you need.