In this article, I will explain what a DC to DC battery charger is and why you need one.
These chargers are mainly used when you want to use your car alternator as a power source in addition to your solar panels. They are also called alternator solar battery chargers.
What is a DC to DC battery charger?
This is the first question you might have. Let me explain it.
A DC to DC battery charger is a device that charges your auxiliary battery from your main battery.
Most of the times, a DC to DC battery charger is used by RV's, vans, or motorhomes. When the vehicle drives, the alternator of the car will charge the main car battery which is used for starting the car.
Now, if you were to wire the starter battery directly to the auxiliary battery, you might drain the starter battery down until you cannot start the engine anymore.
That's why you should install a DC to DC battery charger. It enables the starter battery to remain fully charged before charging your auxiliary battery. This means that you will always have a fully charged starter battery. The excess current that is generated from the alternator gets redirected to your auxiliary battery.
Sometimes DC to DC battery chargers are referred to as a BCDC. This is the abbreviation of: Battery Charger Direct Current, which has the same meaning as a DC to DC battery charger.
A DC to DC battery charger is like having a solar charge controller in parallel with the starter's battery.
Why not charge directly from the alternator?
You can say, why would I not wire the battery straight to the alternator?
The car alternator is not made to charge a deeply discharged battery. The alternator might not be capable of delivering such a high current demand. This will lead to increased wear and overheating of the alternator.
Victron Energy, a popular solar system manufacturer, did a test where they charged a lithium battery with an alternator.
What they found is that charging a lithium battery with a car alternator is not always the best solution. At lower RPM's the alternator was overheating. This is due to the following facts:
A lead-acid battery has a larger internal resistance, so the charging current will be limited.
A lithium battery has a low internal resistance, therefore the charging current is not limited and will lead to burning out of the alternator.
A DC to DC battery charger can be used to reduce the charging current without damaging the alternator.
How many amps does a DC to DC charger draw?
The amount of amps a DC to DC charger draws depends on the rating of the device.
Some chargers are 20 amps, and some are 40 amps.
I recommend using 20 amps if you have one battery. Only use the 40 amps charger if you have more than one battery.
This is because 20 amps is the ideal charging current for a single battery.
Power consumption while idling
Another factor to consider is the power consumption while the device is idling.
When your vehicle is parked, you don't need to run the DC to DC battery charger. Some chargers have a built-in feature that when the car engine is off, the DC to DC battery charger is turned off. This can be done by running a wire to the car fuse box as will be shown later in the wiring diagram.
Both Renogy and Victron DC to DC chargers have this option.
Other reasons to choose a DC to DC battery charger
DC to DC battery chargers has custom charging profiles (Bulk, Absorption, and float) for different types of batteries.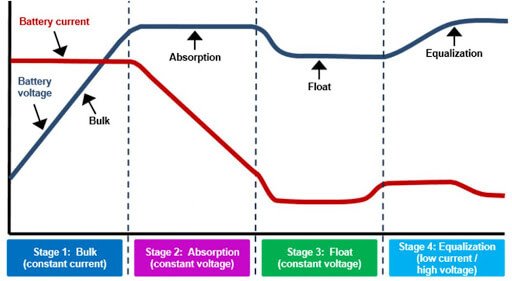 This means that you can charge all kinds of batteries like Flooded, Gel, AGM, and Lithium. In some chargers, you can adjust the voltage levels to your liking for a custom charging profile.
DC to DC Charger Wiring Diagram
In this image, you can see the circuit diagram for a DC to DC battery charger.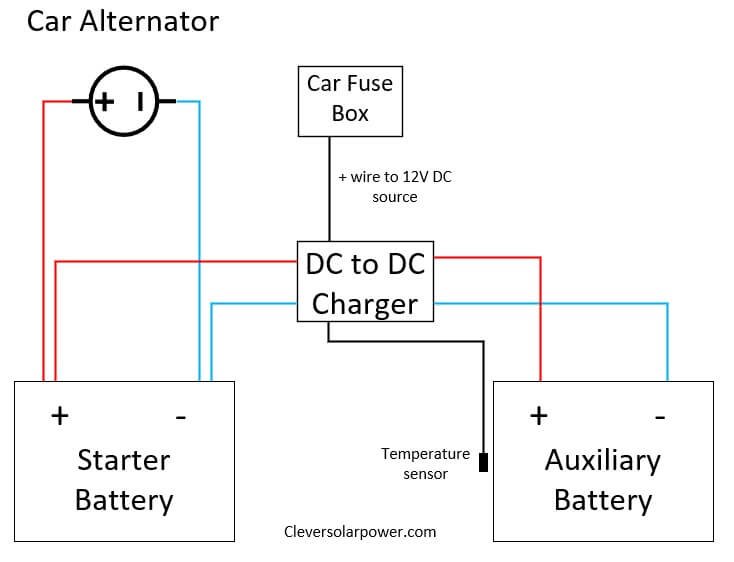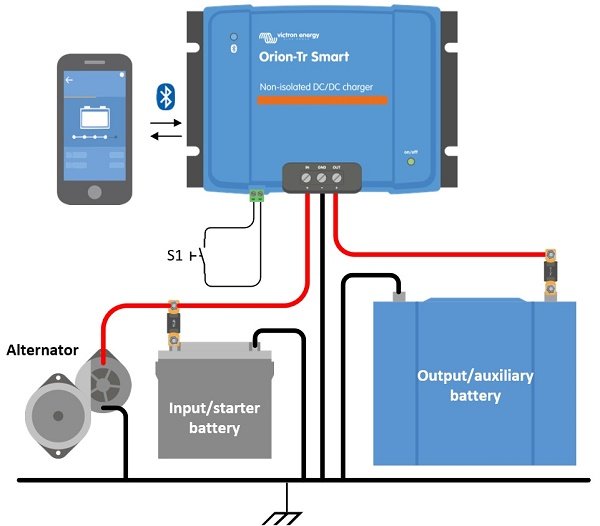 DC to DC Charger with Solar Input
Renogy now has a DC to DC charger with two inputs. One for the auxiliary battery and one for solar panels.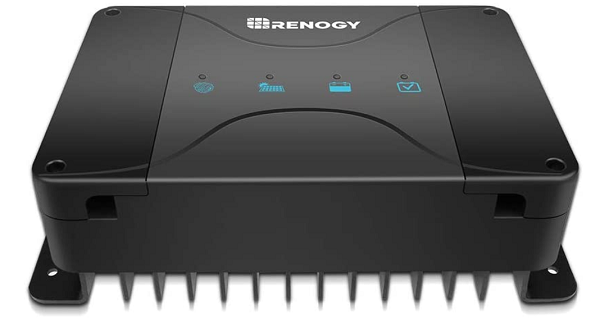 It uses their well-known DC to DC charger, but adds another MPPT.
It comes in a 30 or 50A version. You can only use it with 12V and the max solar panel power is 400W.
View the price here on Amazon.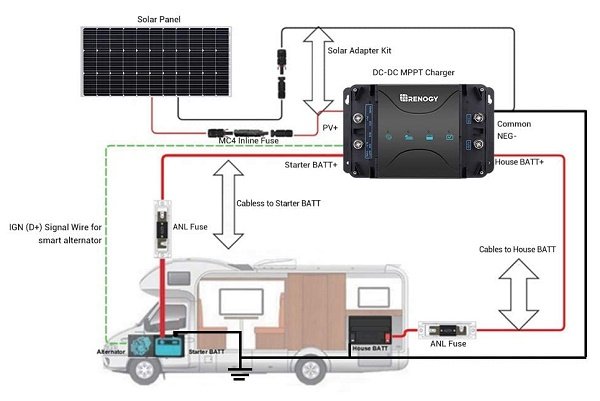 Recommended DC to DC battery chargers
There are two main manufacturers who make the Dc battery chargers, they are Renogy and Victron.
Renogy has a 20 Amp, 40 Amp, or 60 Amp version available.
Click here for prices on amazon.com
Victron has many versions available for 12, 24, and 48 Volts. The smart edition is able to be connected to your phone through Bluetooth so you can manually program it.
Click here for prices on amazon.com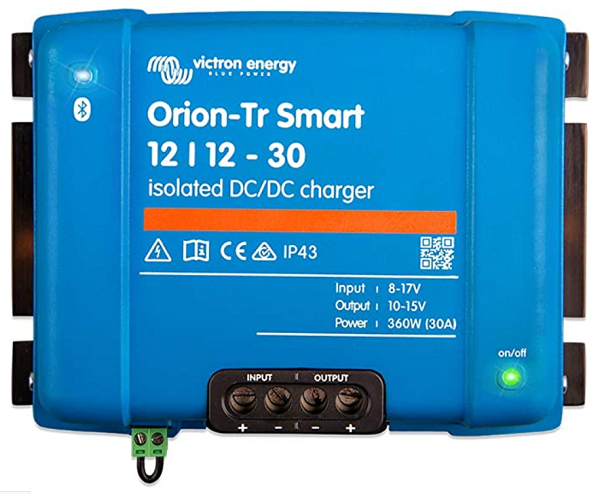 FAQ
How do I convert 24V to 12V in off-grid solar systems?
Read my article about it here.
What is the difference between isolated and non isolated dc to dc chargers?
Read my article here.
Get Started With Off-Grid Solar Power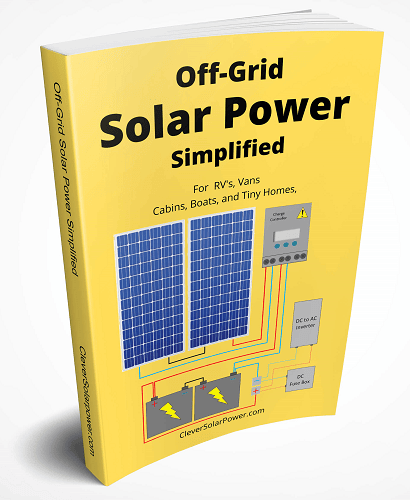 I have written a book that contains all the information you need to get started with off-grid solar power.
With over 1,300 reviews at 4.5 stars, I can almost guarantee you that this book will save you $100's on buying the right equipment.
You can buy it here on Amazon.com