Embarking on an RV adventure? You're in the right place!
This guide explores the best solar panels for RVs, analyzing their efficiency, durability, and customer reviews.
We've got everything from Renogy's compact design, Newpowa's unique square shape, to Rich Solar's reliable performance. Ready to dive into sustainable RV living? Let's get started!"
| | | | |
| --- | --- | --- | --- |
| | Best Overall | Best square panel | Best Alternative |
| | | | |
| | Renogy | Newpowa | Rich Solar |
| Cells | Mono | Mono | Poly |
| Rating | 4.7 out of 5 | 4.5 out of 5 | 4.7 out of 5 |
| Power | 100W | 100W | 100W |
| Voltage | 12V | 12V | 12V |
| Size | 41.8 x 20.9 x 1.4 inches | 28.54 x 27.76 x 1.18 inches | 40.2 x 20.1 x 1.2 inches |
| Area | 873 inches² | 492 inches² | 808 inches² |
| Weight | 14.1 lbs | 13 lbs | 12.5 lbs |
| Voc | 24.3V | 21.82V | 22.8V |
| Isc | 5.21A | 5.55A | 5.46A |
| Warranty | 10 years | 2 years | 5 years |
| | | | |
Renogy 100W Solar Panel
The Renogy 100 Watt 12 Volt Monocrystalline Solar Panel is a popular choice among RV owners for its high performance, compact design, and excellent value for money. This solar panel is known for its robust construction and high efficiency, making it an ideal solution for off-grid applications such as RVs, trailers, sheds, cabins, and more.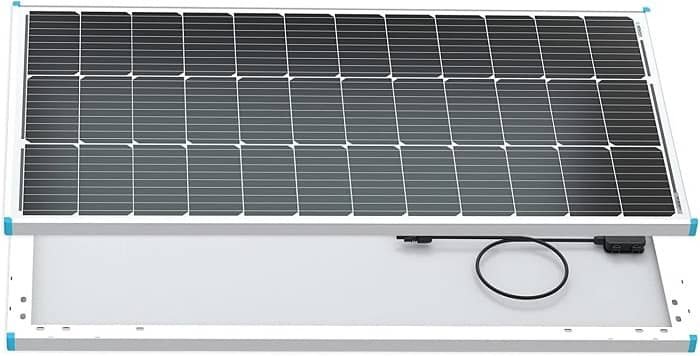 One of the standout features of this solar panel is its compact size and lightweight design, which makes it easy to transport and install. Despite its compact size, it doesn't compromise on power, offering a high module conversion efficiency and excellent performance in low-light environments. This ensures you get the most out of the sunlight and convert it into usable energy for your RV.
However, not just the product's specifications make it a great choice. Customer reviews highlight the real-world performance and reliability of this solar panel. Users have praised the Renogy Solar Panel for its consistent power output, with one user mentioning they could average about 78W. The robust frame of the panel also received positive comments for its durability and sturdiness.
The panel has been used in various off-grid applications, from powering RVs to solar pumps. Users have found the panel reliable and efficient, making it a trusted part of their off-grid living experience.
However, like any product, it's not without its drawbacks. Some customers have reported issues with quality control, including instances of reversed polarity and incorrect wiring. There were also comments about changes in the panel's dimensions over time, which could be an issue for those adding to an existing setup. Despite these issues, the panels were reported to work well once resolved.
Customer service experiences are mixed, with some praising Renogy's support and others finding it lacking. However, Amazon's customer service received consistent praise for its responsiveness and assistance.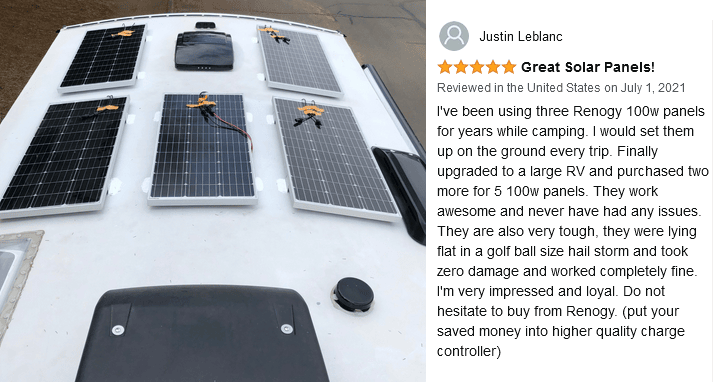 In conclusion, the Renogy 100 Watt 12 Volt Monocrystalline Solar Panel offers a blend of performance, reliability, and value. Despite some quality control issues, its high efficiency, robust construction, and positive customer reviews make it a compelling choice for those looking to harness solar power for their RVs.
Newpowa 100W Square Solar Panel
The Newpowa 9BB Cell 100W Monocrystalline 100W 12V Solar Panel is a highly rated product on Amazon, scoring 4.5 out of 5 stars from 330 global ratings. This solar panel is popular among RV owners due to its efficiency, square shape design, and impressive performance.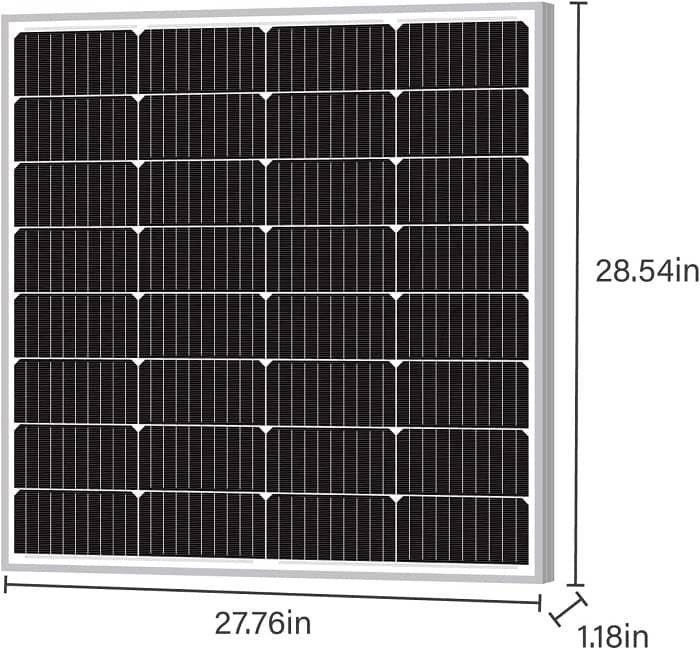 One of the standout features of this solar panel is its 9BB (9-busbar) technology. The term "busbar" refers to the thin lines you see on the surface of the solar cells. These busbars play a crucial role in conducting the electric current generated by the solar cell. More busbars mean less space between each one, leading to better efficiency and performance. The 9BB technology in the Newpowa solar panel allows for better light trapping, reduced internal resistance, and enhanced current flow, contributing to its high efficiency.
Customers have praised the Newpowa solar panel for its excellent packaging and output. Some users have installed multiple panels in parallel and reported impressive results, with the panels providing substantial power to their battery banks. The compact and lightweight design of the panel is also a plus, making it easy to install and move around as needed.
However, it's worth noting that some customers have raised concerns about the advertised wattage of the panel. A few users have reported that they could not achieve the total 100 watts from the panel, even in optimal sunlight conditions. This is normal because a 100W solar panel will seldom reach 100W. 80 watts would be a standard power rating.
Another unique feature of the Newpowa solar panel is its square shape. Unlike traditional rectangular solar panels, this square design can be more space-efficient, especially on the limited roof space of an RV. This shape, combined with the panel's high efficiency and compact size, makes it an excellent choice for RV owners looking to harness solar power.
In conclusion, the Newpowa 100W Monocrystalline Solar Panel, with its 9BB technology and unique square design, is a reliable and efficient choice for RV owners, especially if you seek to maximize the space on top of your RV where a traditional rectangular panel won't work.
Rich Solar 100W Solar Panel
The RICH SOLAR 100 Watt 12 Volt Polycrystalline Solar Panel is a reliable choice for those looking to harness solar energy for their RV. This solar panel is designed with high module conversion efficiency and long service life, making it an excellent investment for any RV owner.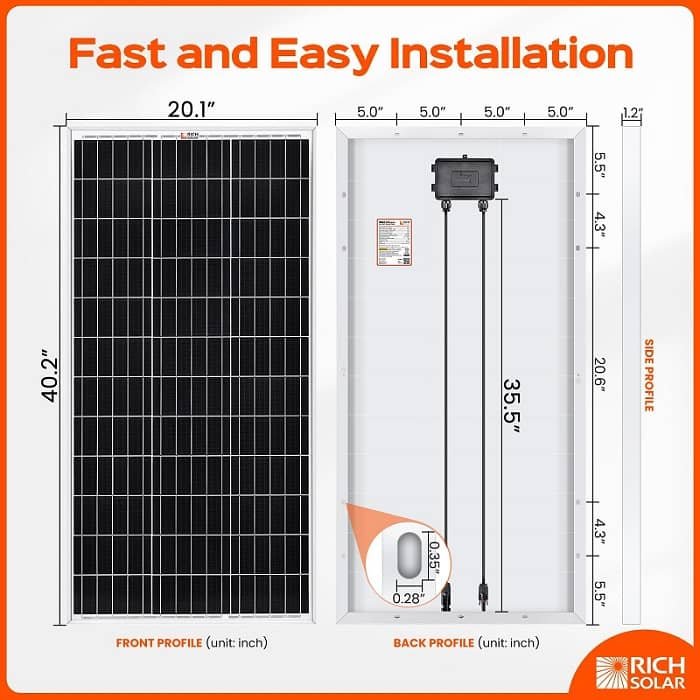 The panel is made of polycrystalline. It can withstand high wind (2400Pa) and snow loads (5400Pa), making it suitable for all weather conditions. The panel also comes with pre-drilled holes on the back, making it easy to mount and secure.
One of the standout features of this solar panel is its performance. During cloudy weather, the panel consistently puts out 58 to 62 Watts. This performance is impressive, considering the less-than-ideal weather conditions.
This solar panel installation is also straightforward, which is a plus for those new to solar energy. The panel's durability is another aspect that users appreciate, with some planning to purchase more panels for additional installations.
However, it's important to note that the panel's performance may vary depending on the weather conditions and the sun's position in the sky.
Additionally, while the panels are rated 100W, some users have reported getting approximately 62W per panel in full direct sunlight. This discrepancy might be a deal breaker for some, especially those expecting to get close to the rated wattage.
In conclusion, the RICH SOLAR 100 Watt 12 Volt Polycrystalline Solar Panel is a solid choice for those looking to add solar power to their RV. Its durability, ease of installation, and performance make it a worthwhile investment. However, potential buyers should know that the panel's performance may not always meet the rated wattage, especially in less-than-ideal weather conditions.
What charge controller do I need?
I recommend using an MPPT charge controller. Because the space on your roof is limited, you want to harvest as much energy as possible.
Read my guides:
Should I wire in series or parallel?
I recommend wiring in parallel. This is to negate the shading effect on your panels. The downside is that you will need to use thicker cables to the charge controller.
Read my guides:
How much current does my charge controller need to be?
If you have a 100Watt solar panel and a 12V battery, you need to use the following formula:
100W/12V=8.33A -> 10A charge controller
Read my guide:
Do I need to fuse my solar panel?
You don't need to fuse your solar panel if it's connected in series. If it's connected in parallel and the combined Isc is higher than the recommended fuse size, then you need to fuse every parallel string.
How can I monitor the charge into my battery?
You can do so with a shunt. A shunt will keep a record of the energy going in and out of a battery to give you an accurate view of your battery's state of charge.
Read my guide:
My #1 Recommendation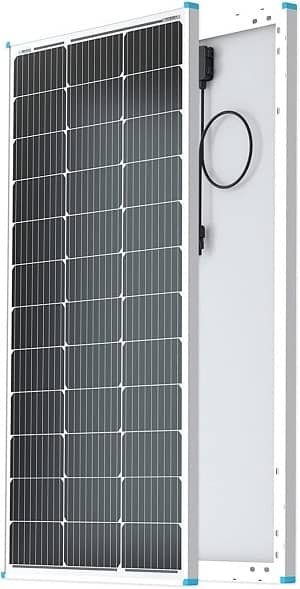 The Renogy 100 Watt 12 Volt Monocrystalline Solar Panel is highly recommended for RV owners. Customers praise its reliable performance, easy installation, and compact design. Its high-efficiency cells ensure optimal power output, even in low-light conditions, making it a favorite among users seeking a sustainable and cost-effective power solution.
Related Posts