When we want to purchase a battery monitor for an RV, we need to look for the following features:
Battery percentage
Power draw in and out
Voltage
Bluetooth Compatibility
Shunt current
Here is a comparison table of my best battery monitors:
| | | |
| --- | --- | --- |
| Best Overall | Best Premium Option | Alternative Choice |
| | | |
| Aili | Victron BMV-712 Smart | Renogy |
| Best overall battery monitor for the price. Easy installation and good display. | Best premium option comes with display and bluetooth app. | Best alternative choice for a mid-level price and bluetooth. |
| Shows Battery % | Shows Battery % in app (display optional) | Shows Battery % |
| Shows power in and out | Shows power in and out | Shows power in and out |
| 8-100VDC | 6.5-95VDC | 10-120VDC |
| No Bluetooth | Bluetooth | Optional Bluetooth |
| 350A | 500A | 500A |
| Best price/quality | Best Premium Choice | Best budget with Bluetooth |
| Mounting hole 2.1″ | Mounting hole 2.1″ | 3.9″ x 2.4″ |
| | | |
​
Let's look at each of them in detail.
Best Choice – Aili 350A
The AiLi Battery Monitor Voltmeter Ammeter is a versatile device that simultaneously measures and displays battery percentage, voltage, current, power, and energy. It's known for its high precision, with voltage detection precision reaching 0.01V and current detection precision reaching 0.01A.
This monitor is compatible with a wide range of battery systems (12V/24V/36V/48V/60V/72V/84V/96V) and draws its working power supply directly from the battery it's measuring. One of its standout features is its large LCD screen, which provides clear readings and an easy user interface.
The AiLi Battery Monitor is designed to monitor battery systems with capacities of up to 999 Amp hours and can measure currents up to 350A. It continuously monitors a variety of parameters, including voltage, current (charge or discharge), number of amp-hours (charge or discharge), the state of charge, and the time to go (autonomy). It also stores historical event data, including max and min voltages, max currents, max power, etc.
Affordable and with a high customer rating of 4.5 out of 5 stars based on 1,019 reviews, the AiLi Battery Monitor offers a blend of functionality, precision, and value.
I have used this battery monitor in many installs and am pleased with it. It's easy to use and has a great price.
Premium – Victron BMV 712 Smart
The Victron Energy BMV-712 Smart Battery Monitor is a high-precision device designed to calculate ampere-hours consumed and the state of charge of a battery. It integrates the current flowing in or out of the battery to calculate this.
One of the standout features of the BMV-712 Smart is its built-in Bluetooth communication, allowing you to monitor your batteries on Apple or Android smartphones, tablets, and other devices. It's also easy to install with all electrical connections to the quick-connect PCB on the current shunt and easy to program with a detailed setup menu. You can also connect the monitor to VE bus (manual).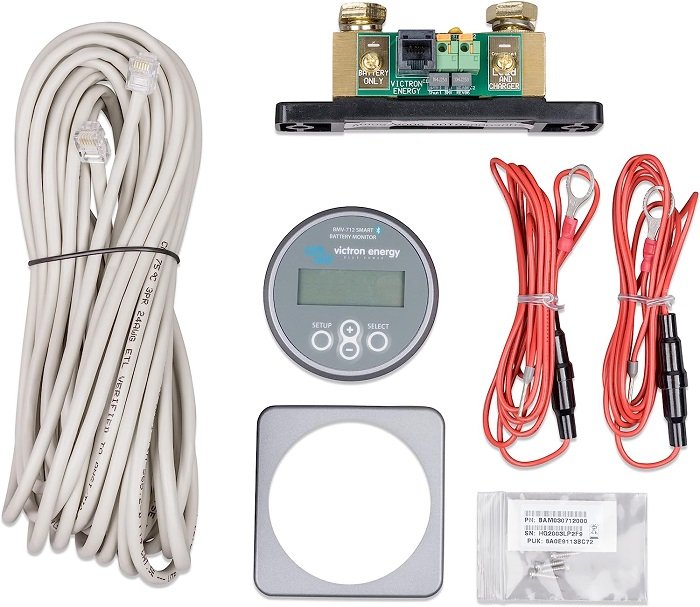 The monitor provides a range of standard features, including battery voltage, current, power, ampere-hours consumed, and state of charge. It also includes a programmable visual and audible alarm, a programmable relay, and a VE.Direct communication port. The device has a wide input voltage range of 9.5 – 95V and a high current measurement resolution of 10 mA (0.01A).
The product dimensions are 2.32 x 1.38 x 2.6 inches, weighing 8.8 ounces. It has received high customer praise, with a rating of 4.8 out of 5 stars based on 1,068 reviews.
What is included in the box:
If you don't need Bluetooth, the Victron BMV-712 will be your best RV battery monitor.
Alternative Choice – Renogy 500A
The Renogy 500A Battery Monitor is a valuable addition to any DIY solar system, providing high-precision monitoring of your battery bank. It identifies the current, voltage, and power going in and out of your battery bank, giving you a comprehensive overview of your system's status. This includes the power used and the remaining battery capacity, eliminating any guesswork from battery usage.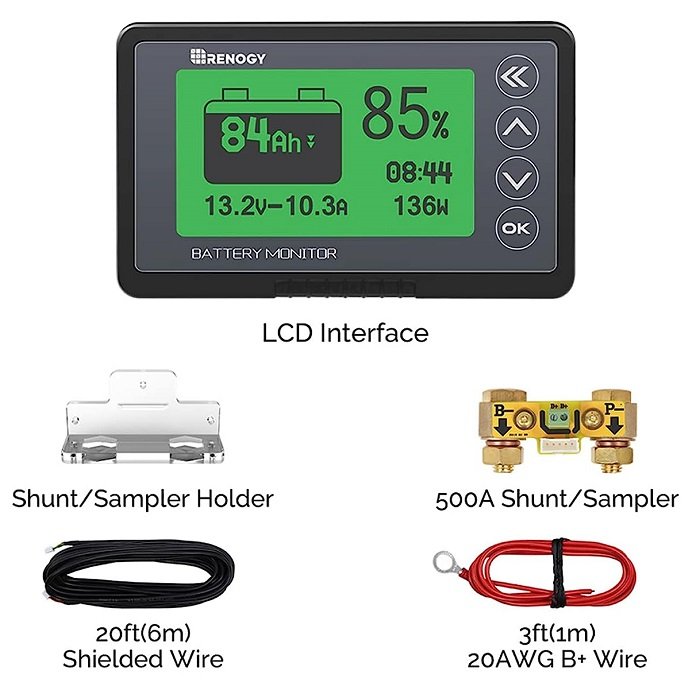 One of its key features is the high and low-voltage programmable alarm. This alarm alerts you when your battery bank's voltage falls below or rises above your programmed high/low voltages, ensuring the safety and longevity of your system. The monitor also features a large backlit LCD screen that displays all vital information, including Amps, Voltage, Watts, Percentage of charge, and Watt Hours, making it easy to understand your system's status at a glance.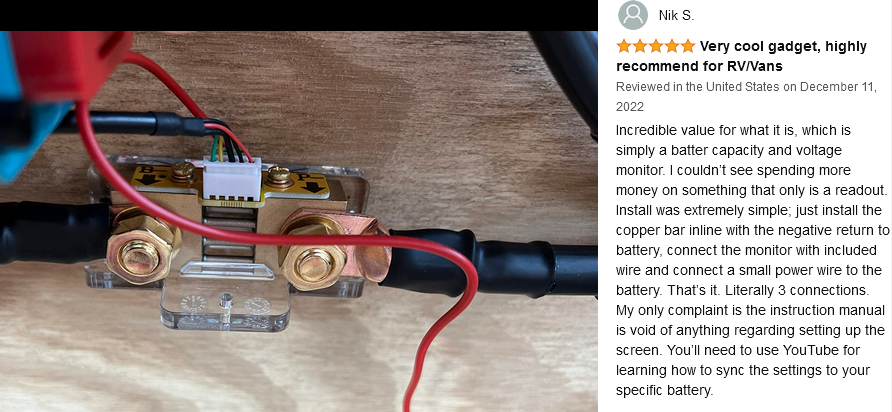 The Renogy 500A Battery Monitor is also easy to install, with the shunt connected in series with the negative battery terminal. It boasts a wide voltage range, compatible with systems from 10V up to 120V, and is compatible with various types of batteries, including Lithium, Sealed, Gel, Flooded, and more. With a rating of 4.4 out of 5 stars from over 1,073 reviews, this monitor is a reliable choice for those looking to buy a battery monitor.
If the Aili battery monitor is unavailable and you don't need Bluetooth, then the Renogy battery monitor will be your best choice.
Wiring diagram
Wiring a shunt battery monitor involves a few steps, and it's important to follow them carefully to ensure a safe and effective setup. Here's a general guide on how to do it:
Identify the Components: The main components you'll be working with are the battery, the shunt, and the battery monitor. The shunt is a device that allows the monitor to measure the current flowing in and out of the battery.
Connect the Shunt: The shunt should be connected to the negative terminal of your battery. This is because the shunt measures the current by detecting the voltage drop across it, and this works best when connected to the negative side. Connect B- to your battery negative and P- to your busbar.
Wire the Battery Monitor: Connect the display to the shunt. This is usually done using a cable that connects to a port on the shunt and then to the monitor. The exact method may vary depending on the model of your monitor, so it's a good idea to consult the user manual. Take a small wire and connect it to the positive side of the battery and bring it to B+.
Learn more about what a shunt does here.
Read more:
My recommendation
My #1 Recommendation
The Li Time 12V 100Ah Battery is our #1 recommended battery for trolling motors.