In this article, I will compare the best lithium batteries.
I will tell you which one to choose based on these criteria:
Companies reputation and warranty
User satisfaction
Internal workmanship (safety)
Price
These are the best LifePo4 batteries
| | | |
| --- | --- | --- |
| Best Overall | Runner-up | Best Budget |
| | | |
| Li Time Smart | SOK Plus | Li Time Basic |
| Best overall battery because of good build quality, reliability, and price | Best battery for rugged conditions like vans and campers | Best value for money but has no smart functions |
| 5/5 build-quality | 5/5 build-quality | 5/5 build-quality |
| 4,5/5 price | 4/5 price | 5/5 price |
| 5/5 smart function | 5/5 smart function | 3/5 smart function |
| | | |
Best Value LiFePO4 battery – Li Time Smart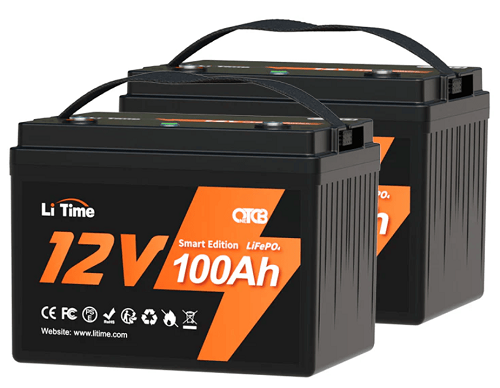 LiTime is known as Ampere Time. They have re-branded their battery line-up.
I recommend the Smart version. This is the most value for money you will get. Here are a few remarkable features of this pricepoint:
Low-temperature cutoff
One-touch button to activate the battery
Supports connection of 4 batteries in series and 4 in parallel (total 16). This is useful if you want to expand your system later.
100A charge and discharge rate
There are two other models for this battery.
| | | | | |
| --- | --- | --- | --- | --- |
| Version | Bluetooth | Low temp protect | Heater | Price |
| Basic | No | No | No | |
| Smart | Yes | Yes | No | |
| Heating | No | Yes | Yes | |
You can get their cheaper version if you do not want low-temperature protection.
If you use the battery in freezing temperatures, then I recommend getting the version with a build-in heater.
LithiumSolar reviews the Smart Battery with a low-temperature cutoff in the following video.
Choose the basic version if you want the best budget LiFePO4 battery (also called lfp battery). There is no Bluetooth connectivity and no low-temperature protection.
I recommend using the smart version for everyday applications. The Smart version comes with Bluetooth connectivity for an app. If your battery experiences freezing temperatures, use the version with the heater.
Runner up – SOK Plus
If your battery needs to be capable of absorbing vibrations or shocks like in a vehicle, then I recommend using the SOK Lithium battery.
SOK has an excellent reputation for delivering quality batteries at a reasonable price. They even offer a 7-year warranty if you buy from current-connected. They add 3 more years to that.
They have several versions:
Basic version
Plus version
Pro version -> cannot be connected in series to make 24 or 48V
Marine version
Some remarkable features of the battery are:
Metal case
The metal bracket inside holds the cell in place
Low-temperature cutoff on all versions
All except the heated version can be connected in series.
50A charge and 100A discharge rate.
Here is a list of all the available 12V 100Ah Lithium batteries from SOK:
| | | | | |
| --- | --- | --- | --- | --- |
| Type | Bluetooth | Low temp protect | Heater | Price |
| Basic | No | Yes | No | |
| Plus (Bluetooth) | Yes | Yes | No | |
| Pro (heating) | Yes | Yes | Yes | |
| Marine (IP65) | Yes | Yes | No | |
Watch the video review by Love your Rv:
FAQ about LiFePO4 Batteries
Is LiFePO4 better than lithium-ion?
Lithium-ion or Li-ion batteries are found in cell phones. These batteries are made for fast charging, but trade that with lifespan.
Did you notice that your phone's battery has been reduced over its first few years?
If we change the batteries in our phones with LiFePO4 battery cells, we will get a longer lifetime, but the charging will take longer. That's why a healthy trade-off with cycle life and charging speed has been made, and that's why our phones use Li-ion batteries.
LiFePO4 batteries are in the same category as Li-ion batteries. Lithium iron phosphate is like part of the Li-ion family.
For solar systems, LiFePO4 is still preferred because it's safer and doesn't contain cobalt (source).
How good are LiFePO4 batteries?
Lithium iron Phosphate batteries have come a long way since their early development in 1996. These kinds of batteries are used in  solar systems or electric vehicles.
Their development has made these the go-to battery chemistry for these applications.
Can lithium batteries last 10 years?
Yes, if we use the cycle life of lithium cells we can calculate the following:
6,000 cycles / 365 days = 16,4 years
After these cycles, there will still be 80% capacity left. If you want to learn more about this, then read my full article here.
Conclusion
This article showed the best budget, durable, and reputable battery brands if you want to buy a lithium (LiFePO4) 12V 100Ah battery.
Our #1 Recommendation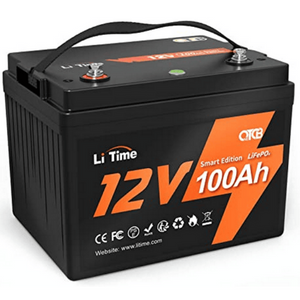 The Li Time 12V 100Ah Battery is our #1 recommended battery for DIY solar systems.
It can connect to your phone and has a low-temperature cutoff switch at a great price.
You can also get the budget version which is not smart but will give you the same amount of energy storage.