Running your house on solar power sounds like a dream, right?
It is getting increasingly cheap, environment-friendly, and has low maintenance; I know you want that.
However, the first step is to invest in good-quality solar panels.
Here is a million-dollar question that can drive you crazy, if not appropriately answered:
Should you buy used or new solar panels?
Let's find out!
In short, it depends on your budget and requirements, but there are other factors to study before making an informed decision. Hold your horses, though. We are here to help you out.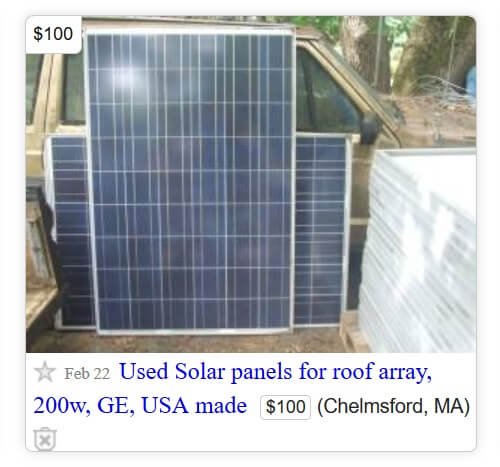 Buying Used or New Solar Panels?
Let's begin with a simple fact; you can't deny that new solar panels are more efficient, durable, and satisfying in terms of their higher power output.
Still, you may find it hard to buy new solar panels because of their high prices. The prices vary according to the type of material used and their ability to convert sunlight into energy. In general, though, they are expensive.
To give you an idea, a rough estimate for the installation of solar panel systems is around several thousand dollars depending on the size. You see, I wasn't exaggerating the expensive part. This is one of the reasons why you may want to go for used solar panels.
Now, the question is: are used panels worth it?
The next part of this article answers this question for you.
Stay with us to know about the do's and don'ts while buying used solar panels.
Are Used Solar Panels Right for You?
It's natural to be suspicious while investing in second-hand equipment. For this reason, we have provided you with the guidelines you should follow while looking for used solar panels. Here are the things you need to look out for:
Your solar panels won't deliver the same amount of energy they once did at their initial stage. Solar panels lose their power output over time. With that being said, used solar panels will comparatively have a low power output, which could affect the overall performance.
You can tackle this issue by buying a greater number of solar panels to compensate for the low power output. With more solar panels, you can have the desired power output you are looking for.
This is where most of the frauds selling damaged solar panels can make a fool out of you. To avoid being the victim, check out if the solar cells in solar panels are connected tightly. Loose solar cell connections don't allow the panel to absorb the sufficient amount of sunlight. As a result, the performance won't be up to the mark.
However, if you are skilled in soldering, then loose solar cells connection aren't much of an issue. Just make sure you have a soldering iron for this task, and you are good to go.
A bit technical, but it is important to compare the cost value per watt of new solar panels with used solar panels. You need to see the difference in power output for a good bargain. For that, you would need a voltmeter and basic know-how on how to measure the power output.
If you look at the solar panels, you will notice they have a positive and negative terminal. You can measure the voltage output across each terminal with the help of a voltmeter. You can then measure the amps in full sunlight with an ammeter connected to a charge controller and battery. Multiply the voltage and the current to become the actual output power of the panel. Depending on the usage, this will be lower than the specified number at the back of the panel.
Voltage Output Fluctuations
You can easily see if the solar panels are damaged externally by noticing the cracks in the glass surface or the loose connections of solar cells. The real issue is to identify the internal damage. How can you know if the interior part is damaged?
While testing the solar panels, check if there are any fluctuations in the voltage output. In that case, the internal circuits no longer work properly due to the moisture inside. As a result, your solar panels will have an unsteady current flow.
In the end, it all comes down to your correct judgment while dealing with the equipment, but unfortunately, used solar panels can't break the ice every time.
Here is an important question you have to keep in mind – what do you need solar panels for?
Can Used Solar Panels Replace New Solar Panels?
Not really!
The thing is, as long as the used solar panels aren't damaged under the surface, you can use them for your do-it-yourself solar projects. For instance, used solar panels can easily charge your battery or your cellphones. You can easily have them set up on your boat or a car. However, they are only a smart choice if you want to use them on a small scale.
For larger scales, they will make more trouble than good. Running your whole house on solar power using second-hand solar panels can be a difficult task, especially if your house is big. We would say, don't take a leap of faith here. You would have to pay to get them off your roof, and that's just sad, right? I don't want you to go through that.
Moving on, you don't normally get warranties with used solar panels. With a new solar panel system, manufacturers give all kinds of additional benefits and guarantees. You will have guidance regarding their productivity, power rate, and how to handle the setup.
On the other hand, there is an underlying risk while purchasing used solar panels. There is usually no backup plan when buying from resellers. Unless you aren't careful about the points mentioned above, it is a possibility that you may end up buying broken solar panels.
Let's Rewind
To wrap it up, you can buy used solar panels if you need them for a small scale set-up. Otherwise, we would suggest the opposite as large scale projects need a huge amount of power. If you want to go for a second-hand solar panel system, make sure to follow our guidelines properly. And yes, avoid the frauds to find a good bargain.

Get Started With Off-Grid Solar Power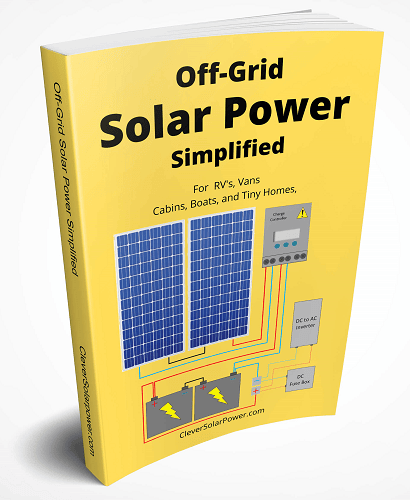 I have written a book that contains all the information you need to get started with off-grid solar power.
With over 1,300 reviews at 4.5 stars, I can almost guarantee you that this book will save you $100's on buying the right equipment.
You can buy it here on Amazon.com
Related Posts