Connecting two solar panels to one battery with one charge controller is easy. This article will explain how you do it, including schematics.
First of all, you should know this:
You cannot connect your solar panels directly to a battery.
You will damage the battery when you connect your solar panels directly to your battery (lead-acid or lithium). You need a device that measures the state of charge of your battery and charges it accordingly, just like a car battery charger.
The device we are going to use is called a charge controller. Like the word says, it will control the charging of your battery.
Purpose of a charge controller:
Stop the charging when the battery is full
Adjust the charging voltage and current
Step 1: Connect your battery to the controller
When you want to connect two solar panels to one battery, you must first connect your battery to the charge controller. It is crucial that you do this step first. If you connect the solar panels to the charge controller, you might risk destroying the charge controller in the process.
Wire thickness depends on the current your charge controller will send to the batteries. For example, the Renogy Rover 20A delivers 20 amps to the battery. You need wires that can carry 20Amps or more and use a 20Amp fuse on the wire. Only fuse the positive wire. If you use a flexible copper wire, you need this AWG12 wire with this fuse. Place the fuse as close to the battery terminals as possible. The manual of the charge controller will tell you what wire to use.
You should end up with a setup like this:
Step 2: Connect your solar panels together
In this step, you will learn how to connect two solar panels.
This can be done in series or in parallel. I have written an article about the pros and cons of both of them. You can read it here: Series VS parallel for solar panels (opens in new tab). Here is the short version of that article:
Always wire in series unless you expect shade on your panels. If your panels have shade, wire them in parallel.
You can also check out my video about series vs parallel here.
The fuse rating is specified in the solar panel datasheet or on the sticker at the back of the panel. You can use an inline MC4 connector fuse.

Step 3: Connect the two solar panels to the charge controller
The wire from the solar panel will be too short to run to your charge controller. Use this wire to extend it so it can reach your charge controller.
Most of the time, you are going to use the series connection. So we will continue the example with the series connection.
Place your charge controller as close to your batteries as possible. Place your charge controller as close to the two solar panels as possible to minimize wire losses. If you have leftover wires from the solar panels to the charge controller, shorten them to reduce losses. Click here to watch my video about voltage drop in solar systems.
Your DIY solar system will now look like this: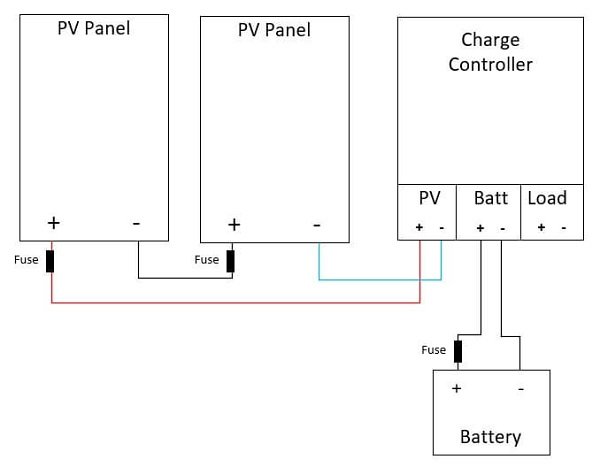 Step 4: Connect the loads
If you have small DC loads, you can connect them to the load terminal on the charge controller.
I recommend using the battery terminals if you want to use an inverter.
See the following diagram as an example.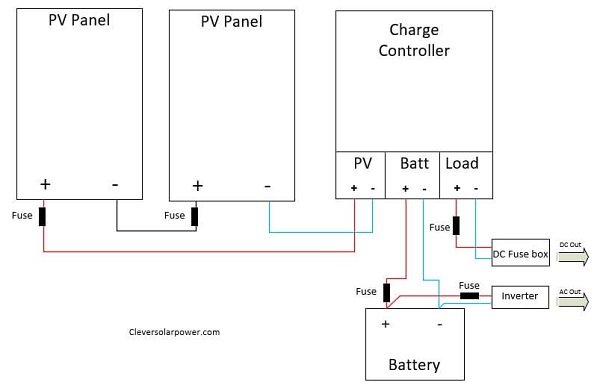 The diameter of the wires will depend on the current that will go through the wires. If the inverter uses 100 amps of current, you need to size your cable and fuse for that current. In my book off-grid solar power simplified, I go into a lot more detail on sizing your own solar system and wires. It's available on Amazon in a digital (Kindle) and paperback version.
Conclusion
Connecting two solar panels to one battery is not that hard to do.
You just need to follow these instructions on the page and use the circuit diagrams I have shown you.
If you have questions, make sure to send me an email or leave a comment below.
FAQ
How many solar panels can I connect to a charge controller?
The amount of solar panels you can connect to your charge controller depends on the power output of your charge controller. This is usually written on the sales page of the charge controller you will buy. If your battery bank voltage is higher, then you can attach more solar panels to it. We can see this in the datasheet for the EPever Tracer:
Model: Tracer2215BN
Nominal System Voltage: 12V / 24V DC Auto
Rated Charge Current: 20A
Battery Voltage Range: 8V-32V
Max. PV Input Power: 260W (12V) / 520W (24V)
Can I connect two different solar panels together?
It is not recommended to connect two different solar panels together. For more information, read my article about series and parallel solar panels or my guide about wiring mismatched solar panels.
Can you connect 3 solar panels in series?
Yes, a series connection will add up the voltage. So if you have 3 solar panels at 20V, then they will have 60V combined. Make sure the charge controller can handle 60V input.
Can I use two solar charge controllers?
Yes, you can. Read my article about connecting two or more charge controllers to one battery.
Related Posts