If you are in a rush, here are my recommendations. If you have a little more time, I recommend reading the entire article.
| | | |
| --- | --- | --- |
| Best Overall | Runner-up | Best for 48V |
| | | |
| ExpertPower | Victron Energy | EG4 |
| Best overall battery charger for 12V battery with good rating, price, and customer feedback. | Best runner-up option because of app integration with Bluetooth and good customer service. | Best LiFePO4 battery charger for 48V server rack batteries from a reputable company |
| 12V | 12 or 24V | 48V |
| 20A | 30A (12V) / 12A (24V) | 100A |
| 5/5 overall rating | 4.5/5 overall rating | 5/5 overall rating |
| | | |
Best Lithium Battery Chargers
Expertpower 12V 20A Battery Charger
This battery charger is solely made to charge lithium batteries. Its 20A charging current will charge your 100Ah battery in 5 hours.
Advantages
20A is a decent charging current for a good price
Solely made for 12V LiFePO4 batteries
Comes with alligator clamps and uses 110VAC
Available in 2A, 5A, and 20A
Good feedback from customers
Budget option
Disadvantages
Progressive Dynamics 12V 60A charger
This LiFePO4 battery charger is perfect if you want to charge your batteries quickly. For example, you have a big battery bank and want to charge it overnight at a campground. This 60A charger will charge a 12V 500Ah battery in 8 hours.
Advantages
Reputable brand
Good feedback from customers
Solely made for LiFePO4 batteries
High charging current
It can take up to 4AWG wires
Disadvantages
Doesn't include leads or alligator clamps
Expensive
Victron Energy Blue Smart 12V 30A Charger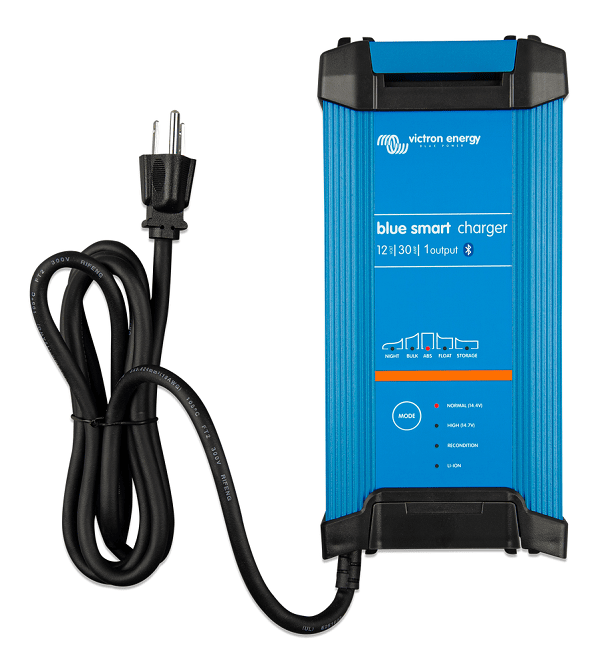 I have used this charger in a van solar system. It's an excellent charger with minimal noise. Perfect if you want to put it under your bed and charge your battery at night.
It comes with a Bluetooth app for remote monitoring.
Advantages
Great company reputation
Low noise
High charging current
Comes with Bluetooth monitoring
Disadvantages
Victron Bluesmart 24V 12A LifePO4 charger
This is the same charger as the previous one but suited for 24V batteries.
The advantage of this charger is that it charges with the same amount of power than the 12V 30A version. This will result in even lower noise and the same charge time. A 24V 100Ah battery will take 8 hours to charge.
EG4 LiFePO4 Battery Charger 48V 18A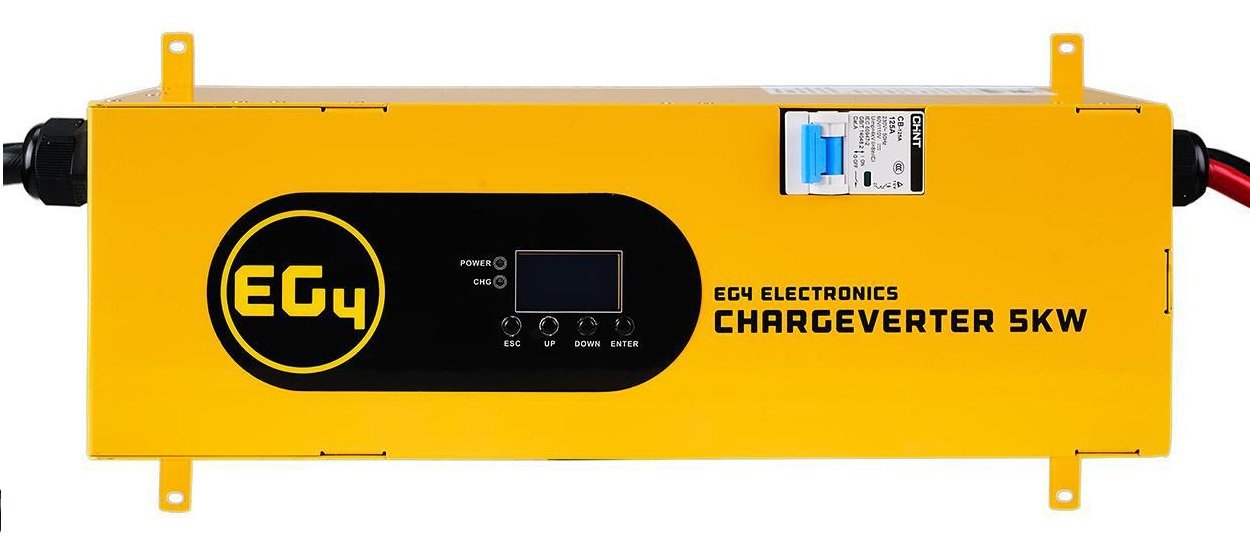 This battery charger is the go-to for charging 48V lithium batteries. 100Amps at 48V will deliver 5,000W (5kW) of charging power. A standard server rack of 48V 100Ah (5kw) will charge in 1 hour.
Best Charger for LiFePO4 Batteries Buying Guide
I won't bore you with the explanation of a LiFePO4 battery charger, but I will get straight to the point.
You need to consider a few factors while purchasing a lifepo4 battery charger. These are:
I will explain more about these crucial factors you need to consider in detail.
Voltage of the Battery
Is your battery 12V, 24V, or 48Volts?
Ideally, your battery should have a high voltage. Why is that you might ask?
Pricing of battery chargers depends on the current they will provide. Let me explain with an example.
A 12V charger delivering 10A has a charging power (watts) of 120W.
12V * 10A = 120W
The same 10A charger on a 48V battery can deliver 480W.
48V * 10A = 480W
The price of a 12V or 48V charger will be around the same at 10A. But the charging speed is 4 times faster!
To reduce the cost of your battery charger, increase your battery voltage.
Charging current
As I have already mentioned in the previous chapter, the current of the charger is what will determine its price.
But how much current should you charge your battery with?
LiFePO4 generally has a C-rate of 0.5C. This means that the maximum charging current should be multiplied by 0.5 and the battery capacity. Let me explain with a 12V 100Ah battery.
100Ah * 0.5C = 50A charging current
In this example, 50Amps is the max charging current. You can always go lower than this, but not higher.
There is no minimal charging current for a lifepo4 or lithium battery. If you drop the current, the charging time will be longer. Choose a low-current charger if you don't mind the longer charging time. This will save you money.
Our #1 Recommendation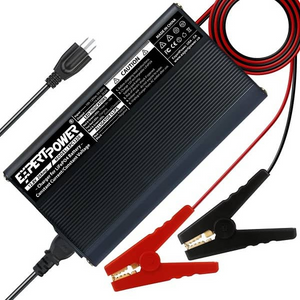 The Expertpower battery charger is our top pick for a LiFePO4 battery charger.
It has good customer feedback, has a decent charge current, and comes with leads.