The heart of any high-performing Tesla Power Pack system is its Battery Management System (BMS). This vital component ensures that the system's lithium-ion cells operate within their safe and optimal range, preventing potential damage due to overcharging, over-discharging, or overheating.
However, like any other part of a complex electrical system, a BMS may require replacement or upgrading to maintain or improve the system's overall performance.
Choosing the Right BMS for Tesla Battery Module

The choice of a BMS largely depends on its compatibility with your specific Tesla Power Pack. Overkill Solar offers two compelling choices: the Revision B and C BMS units. Both are known for their reliability and advanced features, making them excellent for Tesla Power Pack systems.
Revision B
The Revision B BMS is designed for robust functionality and supports up to 15 lithium cells in series. It features seven individual balance wires that are terminated in a 15-pin connector.
You can recognize it by the colorful balancing wires on the top.
Revision C
The Revision C BMS is an upgraded version of Revision B. This model uses two ribbon cables for balance wires, terminated in a 5-pin and a 7-pin connector, respectively.
You can recognize it by the balancing wire being a fragile ribbon cable.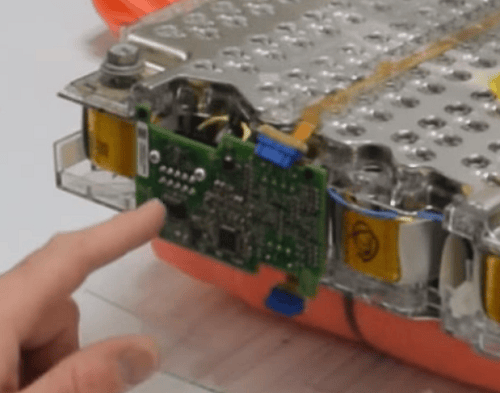 Preparing for BMS Installation
Before you begin fitting a new BMS, taking the necessary safety precautions is essential. Working with 24V systems like a Tesla Power Pack can be dangerous if improperly handled. Always disconnect the battery pack from any loads or charging sources before beginning, and wear protective gear like safety glasses.
In terms of tools and materials, you'll need:
Multimeter
13mm Socket wrench
Pliers
Tape (kapton preferred)
Lastly, perform a pre-installation check on your Tesla Power Pack. Ensure there is no visible damage or anomalies in the system that could potentially cause problems after the new BMS is installed.
Installing the new BMS on the Tesla Power Module
Overkillsolar made a tutorial video on how to fit the BMS on the Tesla battery. It is easy to follow and explains every step you need to take.
Wiring the Battery packs together
After installing the BMS, you can use the Bluetooth app from Overkillsolar to monitor the battery.
You can then bring the salvaged tesla batteries to a busbar. This is where the inverter and solar charge controllers will be attached to. Don't forget to fuse each pack.
There are two options available. You can get the board itself or the board + BMS.
Related Posts
None found