Here you are, asking yourself the question, Can I charge a battery bank with two charge controllers?
YES! You can add as many charge controllers as you want! Keep on reading this article to find out how.
Here are some reasons why you might want to add another charge controller:
You want to add more solar panels to your system.
You want to add a panel with a different specification than the one you already got.
You want to separate panels from each other because they receive shade at different times of the day.
Now your next question might be: do they need to communicate with each other?
How do Charge Controllers Interact With Each Other?
Charge controllers sense the internal resistance of a battery and send their current to the battery terminals based on the resistance of the battery. If the battery is at a low state of charge, the resistance will be low and the charge controller will charge in bulk mode (depending on the battery type).
If the resistance increases, the charging current will decrease because the battery is almost full.
If two or more charge controllers charge the same battery, the battery will be charged quicker. The multiple charge controllers will not compete with each other because they all sense the same internal resistance of the battery. If charge controller A puts in 100Watts, charge controller B will also put in 100Watts into the battery.

When you program your charge controller you can add the cutoff voltage in the software. That means if your battery reaches a pre-defined voltage, it will stop charging. You can tell charge controller A to charge to 12 volts and charge controller B to charge to 12.8 volts. This is not needed but is good to know because one charge controller might stop charging if it reaches that point, and you will be wondering why that is. Also, if the wires of charge controller A are a bit longer, it might enter float mode earlier than charge controller B because of the voltage drop (increased resistance).
If the charging current becomes too high, the internal resistance of the battery will change because of the heat generated. The charge controllers will then reduce their power input to the battery.
Wiring Two Strings to Two Charge Controllers

In this example, there are two strings or arrays of solar panels that go to every charge controller. This setup is ideal if you have multiple solar panels that do not have the same rating. Refer to the article about series and parallel wiring solar panels if you want to know more about how to wire your panels, or check out my video.
You can also use this kind of setup on a boat. If one charge controller is in the shade of a sail, but the other is in full sunshine, the sunny panel will still deliver its max power. The shaded panel will deliver reduced power. This is very similar to wiring your panels in parallel.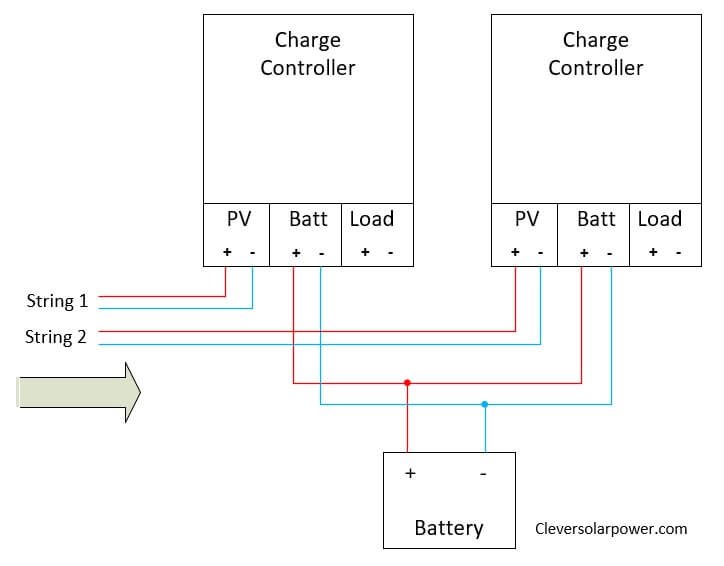 You can either use PWM or MPPT charge controllers for this. The kind of charge controller you have doesn't matter.  You can use a PWM and an MPPT to charge a battery.
Synchronizing Multiple Charge Controllers
If you are using two or more charge controllers they do not need to be able to communicate with each other.
There might be a problem with flooded lead-acid batteries where they equalize every month. If you have multiple charge controllers attached to the battery bank they equalize more frequently, Which is not good for the battery. You need to turn off the equalizing function on the other charge controllers so you only have one charge controller performing the equalize function.
Some models are able to communicate with each other like the Victron BlueSolar and SmartSolar models. The communication happens with the built-in Bluetooth module for the SmartSolar model. For larger systems, they recommend using the VE.can port.
The reason for communication between charge controllers is so that only one charge controller will balance the cells, not all of them (only with lead-acid).
Both charge controllers will deliver their maximum amount of current to the battery.
Off-Grid Solar Power Simplified
Maximum Charge Current
Lead-acid batteries can only be charged at a low C-rate (0.2xAh capacity). while Lithium batteries can be charged at a higher C-rate (1xAh capacity).
For example, you can efficiently charge a 100Ah lead-acid battery with a current of 20Amps, or a 100Ah lithium battery with 100Amps.
You need to take this into consideration. If the charging current will be higher than those rates, the energy will be dissipated as heat or the BMS (battery management system) will limit the current going in the battery. Make sure your battery capacity (Ah) is high enough to accommodate another charge controller.
Can I use a multiple input charge controller?
Many people find it attractive to have one charge controller to which they can connect mixed solar panels. However, this is not a good idea for redundancy. What happens if the one device that charges everything is broken? Another problem is availability. Most of the time it will be hard to find one according to your specifications. Therefore it's better to have multiple separate charge controllers.
Can I use different size and brand charge controllers in parallel?
Yes, as long as they have the same settings. These are:
Battery voltage
Battery profile (lead-acid, AGM, Lithium)
Can I use PWM and MPPT together?
Yes. It's best to set both PWM and MPPT controllers to the same voltages. So they both work at the same time. If one is set at a lower voltage, the second one will keep charging. While it will not hurt your batteries, it's best to set the same charging voltages.
Can you run 2 MPPT controllers together?
Yes. You can run two or more MPPT charge controllers together as we discussed in the article.
Conclusion
You can wire multiple charge controllers in parallel to support an expanding solar system. You do not need to have charge controllers that are able to communicate with each other but you should only enable the equalizing function in one of them if you have flooded lead-acid batteries.
If you want to watch a video about this article, you can do so here:
That's how you connect 2 charge controllers 1 battery bank. Hope this article was helpful!
Related Posts