This article will show you the best 12V 4S LiFePO4 BMS for lithium battery cells.
What makes every battery management system unique and why you should choose for it.
List of the Best 12V 4S LiFePO4 BMS
DALY BMS
To start off we will look at Daly's popular BMS. Here are some important features of the BMS:
Current: 30-500A
Android and IOS app
Low-temperature protection: NO
BMS comes with a Bluetooth dongle
RS485, CAN, and UART communication available (buy separate)
30mA balancing current
$52 for the 100A version at the time of writing
Drawbacks
The current indicated on the BMS is the discharge current. The charge current is half of that.
Ships from aliexpress which takes longer, and warranty is not guaranteed.
Low balancing current
No low-temperature disconnect
Conclusion
This is a great budget BMS. If you don't plan on powering big loads and the battery won't experience freezing temperatures, this is your BMS.
Get it here on Aliexpress, or here on Amazon.com
JIKON or JK 12V 4S BMS
This BMS from JIKON is also known as the JK BMS. It's know for it's high balance current which makes it suitable for higher charge and discharge frequency.
Current: 40-500A
Android and IOS app
Low-temperature protection: NO
Possible to add a heating function if you buy the 'H' version
RS485 and Bluetooth communication
600mA balancing current with the 100A version.
$70 for the 100A version at the time of writing
Possibility of adding a screen
5 day shipping option from aliexpress to the US.
Drawbacks:
This BMS has no low-temperature cutoff. But the 'H' version has a heating function. If it detects that the temperature of the battery is getting low or below freezing, the BMS will send current through two wires which you need to attach to a heatmat.
It is sold on Aliexpress, but the customer service seems better than Daly. People write reviews about this JK BMS and there are many forums where the company replies to questions.
Conclusion:
This BMS is perfect for high-power applications because its active balance function has a high balancing current. If you are using a LiFePO4 battery and need a good reliable BMS without additional top balancing, then the JK BMS is for you.
JBD or JIABAIDA 4S 12V BMS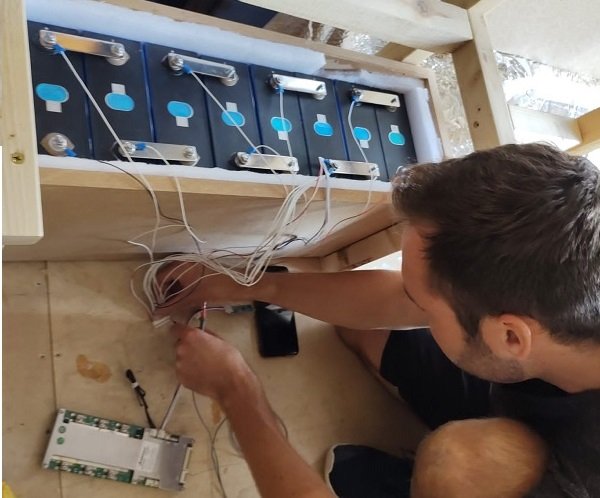 I used this BMS for my friend's van build. We used the BMS for a 24V system. It automatically detects what voltage your system is. So if you plan on expanding your 12V or 24V battery, this BMS is suited for that. One BMS to master all your battery voltages.
Here are some of the features that make it stand out:
Current: 80-200A
Android and IOS app
Low-temperature protection: Yes

UART, RS485, CAN, and

Bluetooth communication (UART and Bluetooth at the same port, UART needs to be purchased separately)
50mA passive balancing current with the 100A version.
$66 for the 100A version at the time of writing
You can use your own lugs on the BMS (M6 screws)
Drawbacks:
The balancing wires are made for 21S. The wiring harness for 4S will be complicated because you need to wire 18 sensing wires to one battery post in order for it to work. The other 3 will go to the corresponding terminals. If you look closely at the image you can see that cell 6 has about 8 wires going to it.
I bought mine from alibaba (wholesale aliexpress) and had problems setting up the BMS. My mistake was not bridging the on/off switch. It took a long time for customer service to answer my request, and communication was not good.
I recommend using overkill solar if you want to use this BMS. Their customer support is much better and they have a custom app which makes it easier.
Get it here from overkillsolar
Get it here on Aliexpress
4S BMS LiFePO4 Diagram
Wiring a 4S 12V BMS is quite easy. The BMS has two cables. These are the main battery – and the main cell -.
Wire your 4 cells in series and then attach the 4 leads to every positive. Then connect the black wire to the main negative of cell 4.
In total, you need to connect 5 extra wires to the cells. Make sure you get them in the right order. This is usually described in the manual or on the BMS. These small wires are there to sense the voltage of every cell and charge/discharge them to balance them.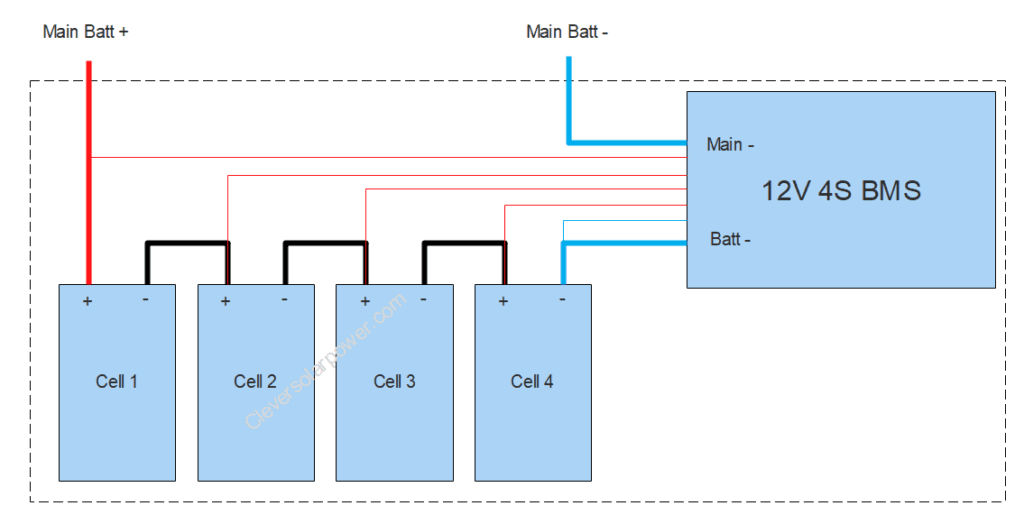 What current does my BMS need to be?
Let's assume you have a 1000W inverter; then your current requirement will be:
1000W/12V=83A
We then need to include some headroom, so the BMS doesn't work 100%; this can lead to overheating.
83A*1.25=103A
In this case, with a 12V battery and a 1000W inverter, you need a 100A 4S BMS.
I recommend keeping the current at or under 100A.
If you have a 3000W inverter, then you should use a 48V system.
3000W/12V= 250A -> too high

3000W/48V= 62.5A -> ideal